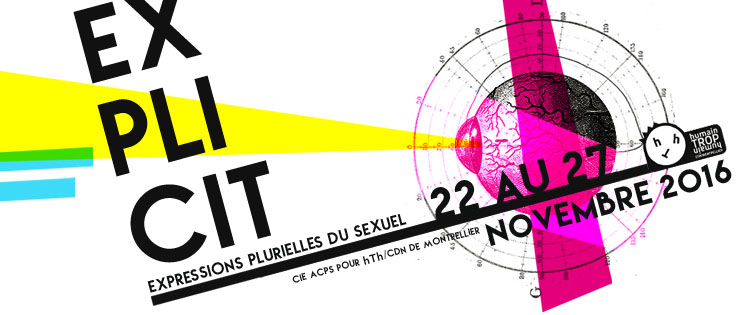 Films, conferences, exhibitions, shows and performances…
Explicit will blend theoretical and artistic, clever and direct, historical and contemporary approaches to the explicit through a multitude of expression.
Sexuality is a cultural, political and social object and not only personal and intimate, hence the necessity to create representations of it that push boundaries and question our bodies.
Queer, post-porn, sex-positive feminism, porn studies and sexual counter-cultures are based on the political and artistic desire to blur identities, create emancipatory spaces, and promote the body as a place of strength, joy and dispute.
This research coincides with that conducted around art and contemporary performing arts.
The Explicit programme aims to promote these intersections by giving a voice to avant-garde scenes that invent and analyse representations of 'sexuality' beyond the dominant codes and norms.
Explicit festival is an event programmed by company A contre poil du sens for Humain trop humain - National Dramatic Center of Montpellier.
More informations
---
Second edition took place from 23rd to 27th november 2016 !
23th and 24th at Cinema Diagonal of Montpellier and from 25th to 27th november at Humain trop humain - National Dramatic Center of Montpellier
First edition of Explicit festival took place on 22nd, 23th and 24th  may 2015 in humain Trop humain - National Dramatic Centre of Montpellier
For any further information about the Festival : http://festival-explicit.fr